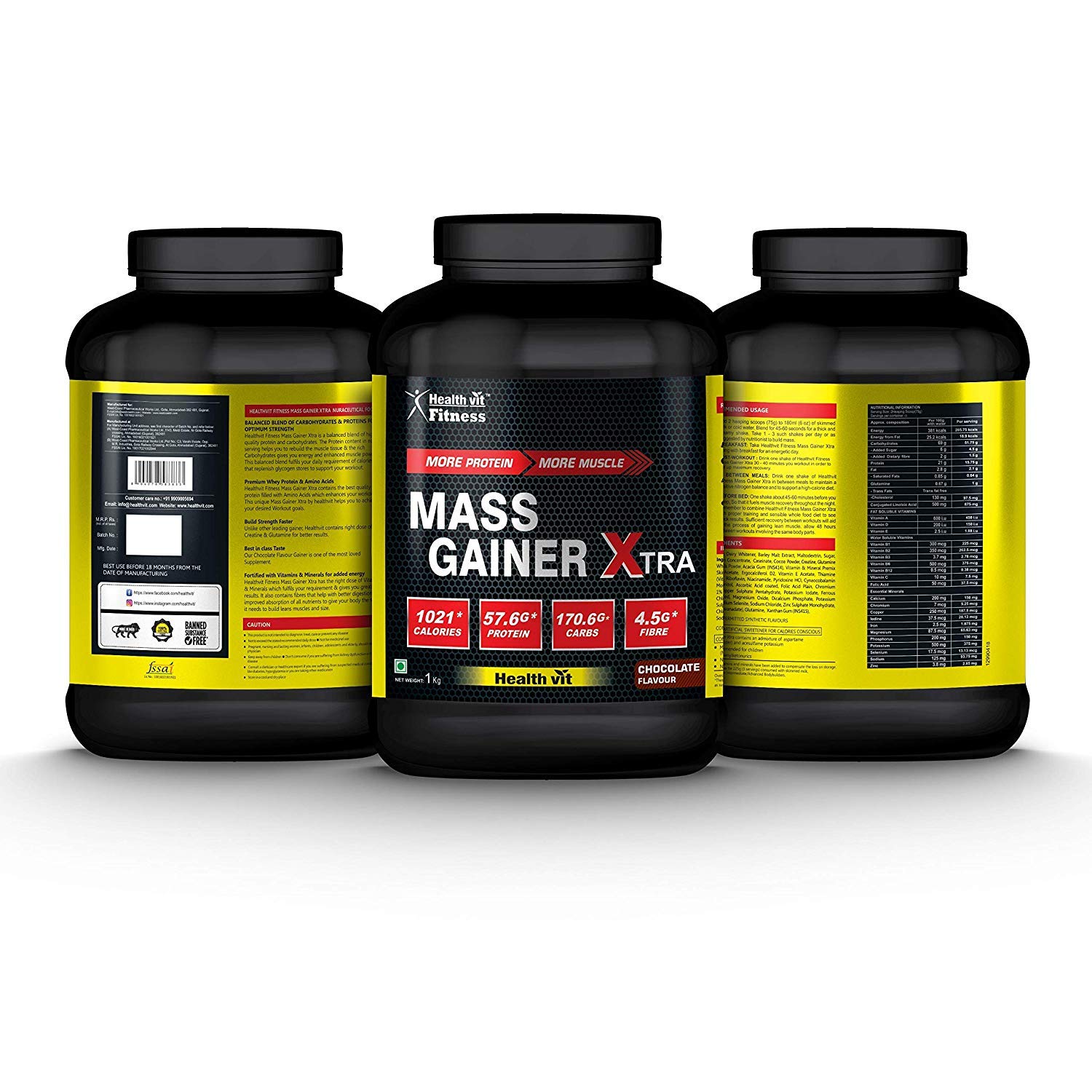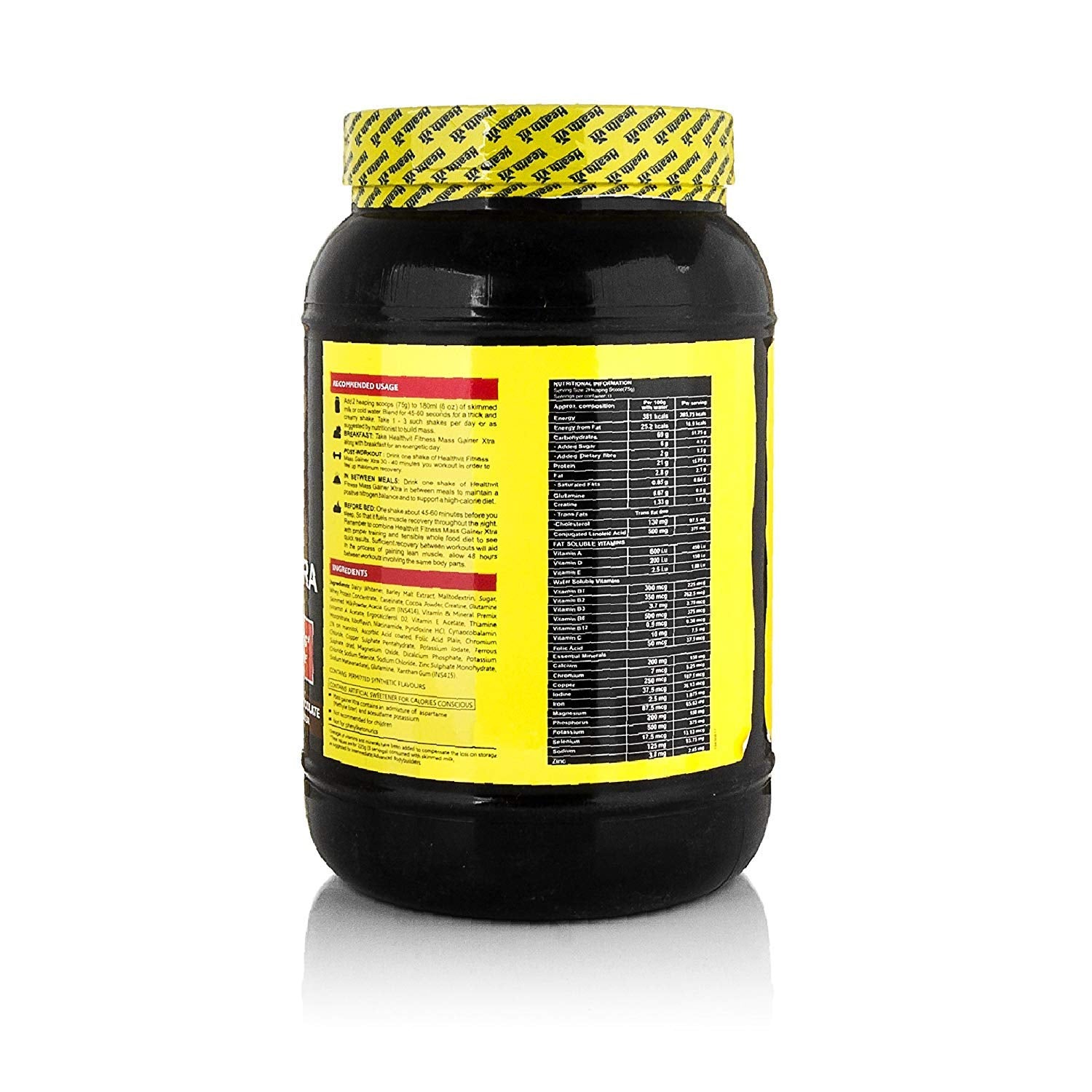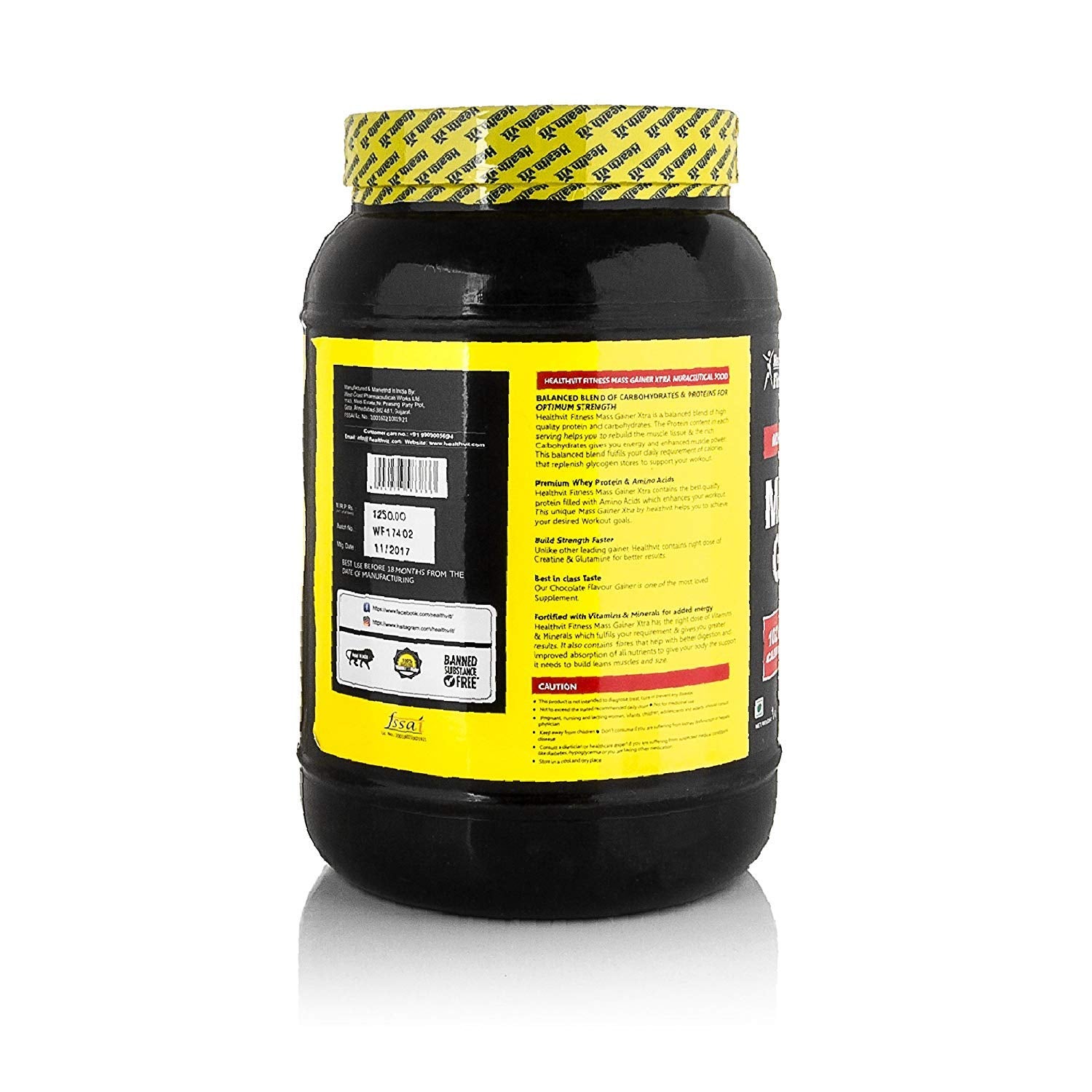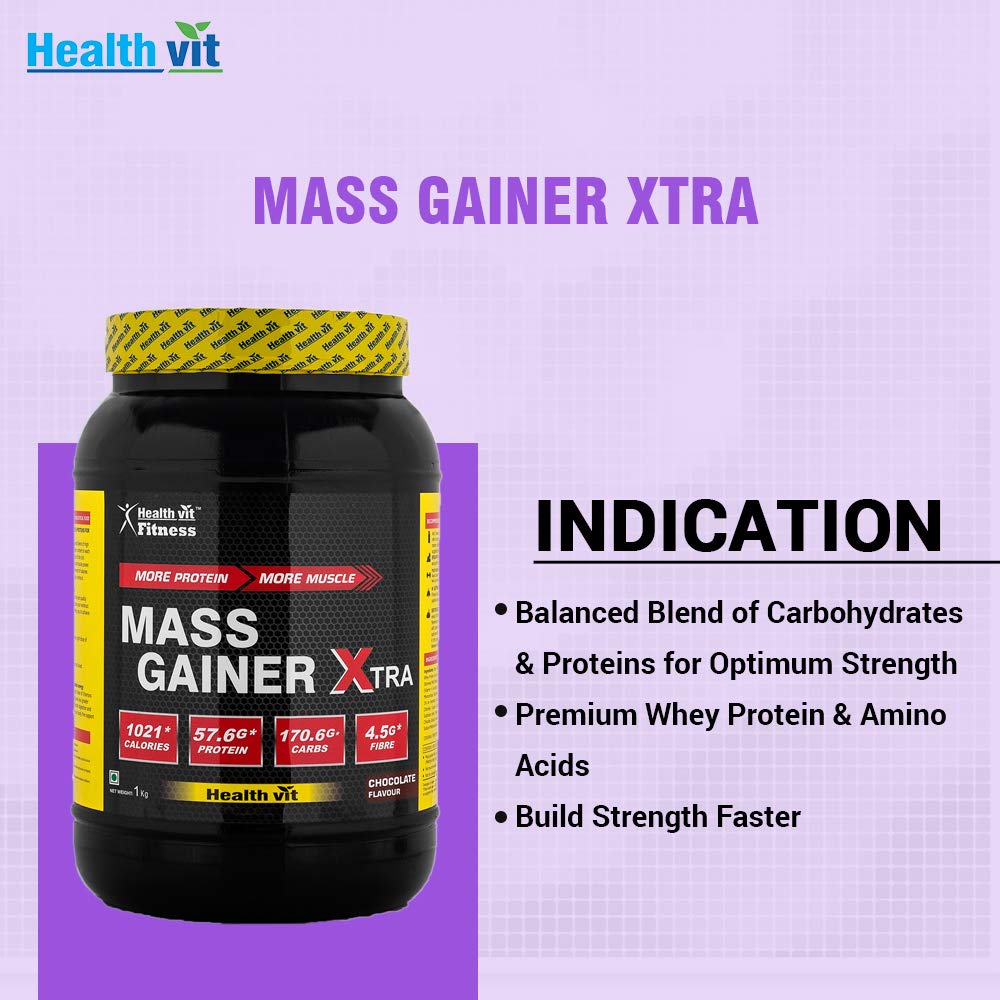 Healthvit Fitness Mass Gainer Xtra with Vitamins & Minerals Chocolate Flavour 1kg / 2.2 lbs
Regular price

₹ 1,250/-

Sale price

₹ 999/-

Unit price

per
CLICK HERE FOR COD
About the product :
MORE PROTEIN PER SERVING: Delivers 75g per serving with 57.6g protein and 170.6g carbohydrate. An ideal amount of proteins aims to promote muscle anabolism. While the fast absorbing protein like Whey trigger the muscle synthesis by quickly providing the amino acids.
PREMIUM WHEY PROTEIN & AMINO ACIDS: Healthvit Fitness Mass Gainer Xtra contains the best quality protein filled with Amino Acids which enhances your workout. This unique Mass Gainer Xtra by healthvit helps you to achieve your desired Workout goals.
CALORIE DENSE SUPPLEMENT: Convenient for those who want to consume their calories in a very fast and efficient way. The foundation to adding weight is consuming more calories than you burn. Healthvit Mass Gainer is elevated to assist you pack on muscles, increase body strength and energy levels.
SUITABLE TO CONSUMABLE AT ALL TIMES: Enriched with right proportion of nutrients that can be consumed at any time of the day to nourish the body and is appropriate for beginners as well as serious mass gain trainers.
DISSOLVES READILY AND OFFERS MAXIMUM RECOVERY: Developed to make consuming a shake a pleasant experience. Dissolves quickly in water and milk, so you can prepare a lip smacking delicacy within no time. Fortified with per serving 0.5g of glutamine to help reduce muscle breakdown, replenish declining glutamine levels and offers faster muscle recovery.
Product Description :
Healthvit fitness mass gainer extra with vitamins and amp; minerals chocolate blend of carbohydrates and amp; proteins for optimum strength Healthvit fitness mass gainer extra is a balanced blend of high quality protein and carbohydrates. The protein content in each serving helps you to rebuild the muscle tissue and amp; the rich carbohydrates gives you energy and enhanced muscle power. This balanced blend fulfils your daily requirement of calories that replenish glycogen stores to support your workout. Premium whey protein and amp; amino acids Healthvit fitness mass gainer extra contains the best quality protein filled with amino acids which enhances your workout. This unique mass gainer extra by Healthvit helps you to achieve your desired workout goals. Build strength faster unlike other leading gainer, Healthvit contains right dose of creatine and amp; glutamine for better results. Best in class taste our chocolate flavours gainer is one of the most loved supplements. Suggested use: add 2 heaping scoops (75g) to 180m1 (6 oz. ) Of skimmed i milk or cold water. Blend for 45-60 seconds for a thick and creamy shake. Take 1 - 3 such shakes per day or as suggested by nutritionist to build mass. Arts.
---
Detailed Specifications:
| | |
| --- | --- |
| Package Dimensions : | 17.9 X 18.2 X 28.9 Cm; 1520 Grams |
| Size : | 1 kg (Pack of 1) |
| Manufacturer / Importer : | West Coast Pharmaceutical Works Ltd; |
| Marketed by : | Merhaki Foods & Nutrition Pvt. Ltd. |
| Flavour : | Chocolate Flavour |
| Weight : | 1520Grams |
| Brand : | HealthVit |
| Model Number : | AMAWCHEAVIT00355 |
| Item Part Number : | AMAWCHEAVIT00355 |
| Item Length : | 289 cm |
| Batteries Required : | false |
| Appropriate Age Range : | Adult |