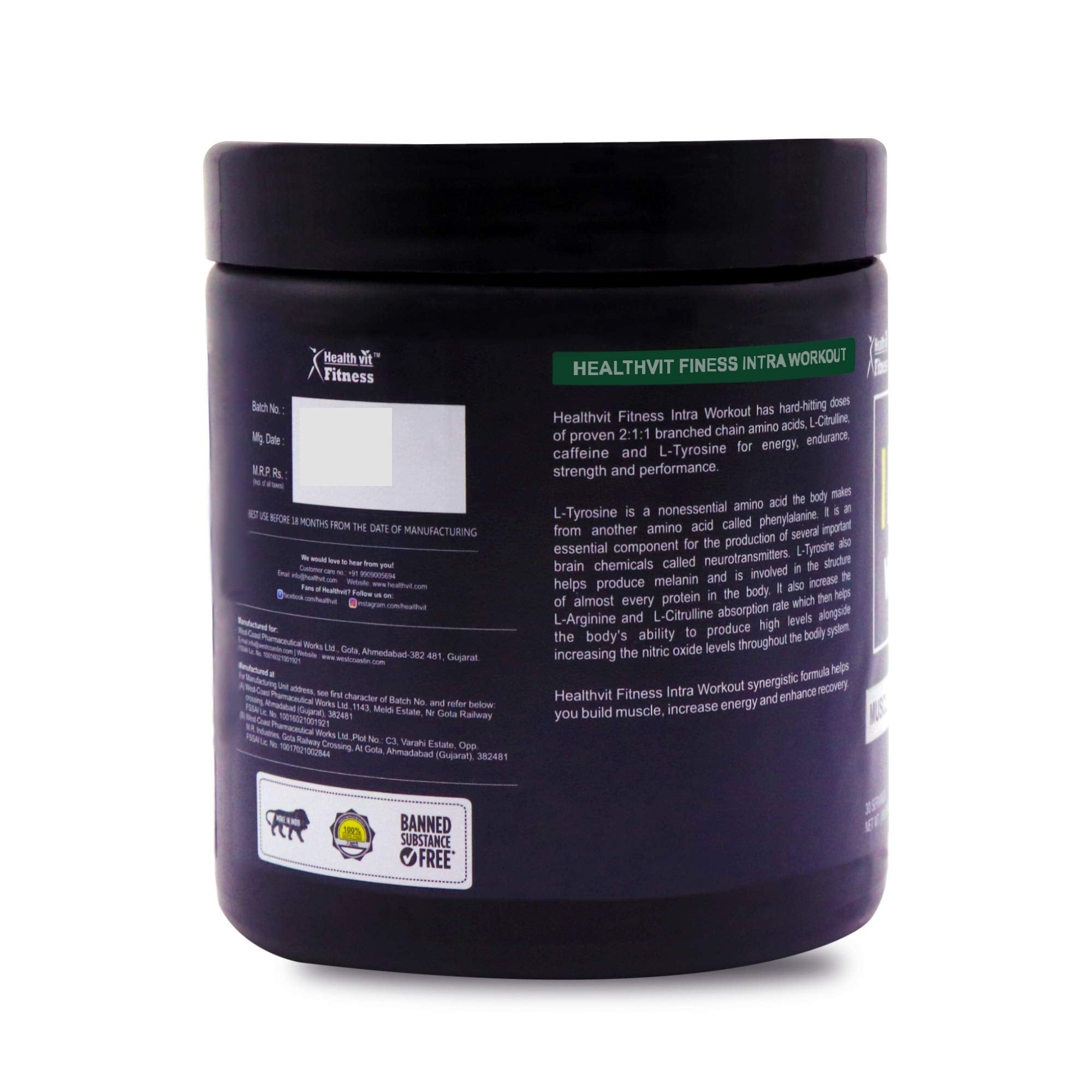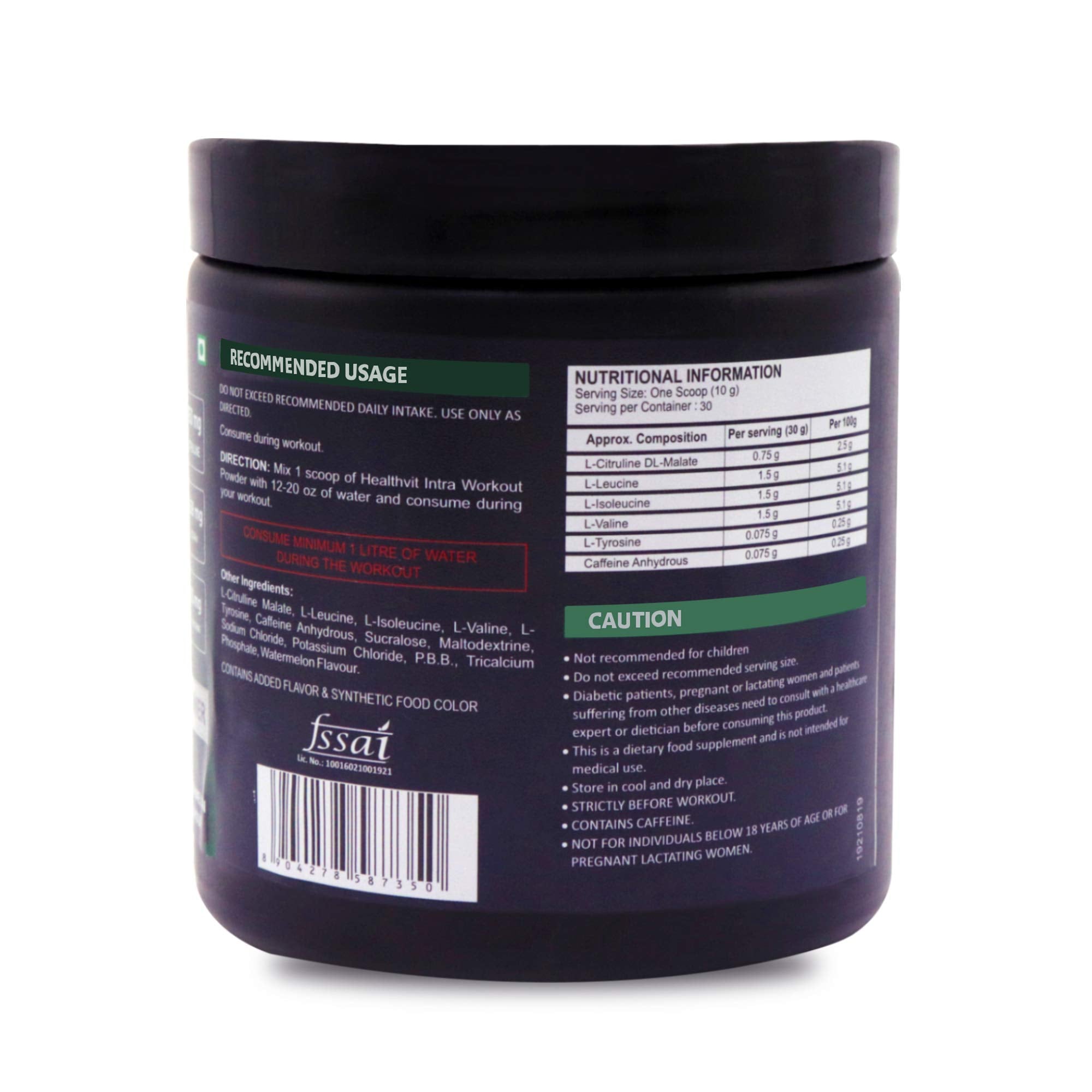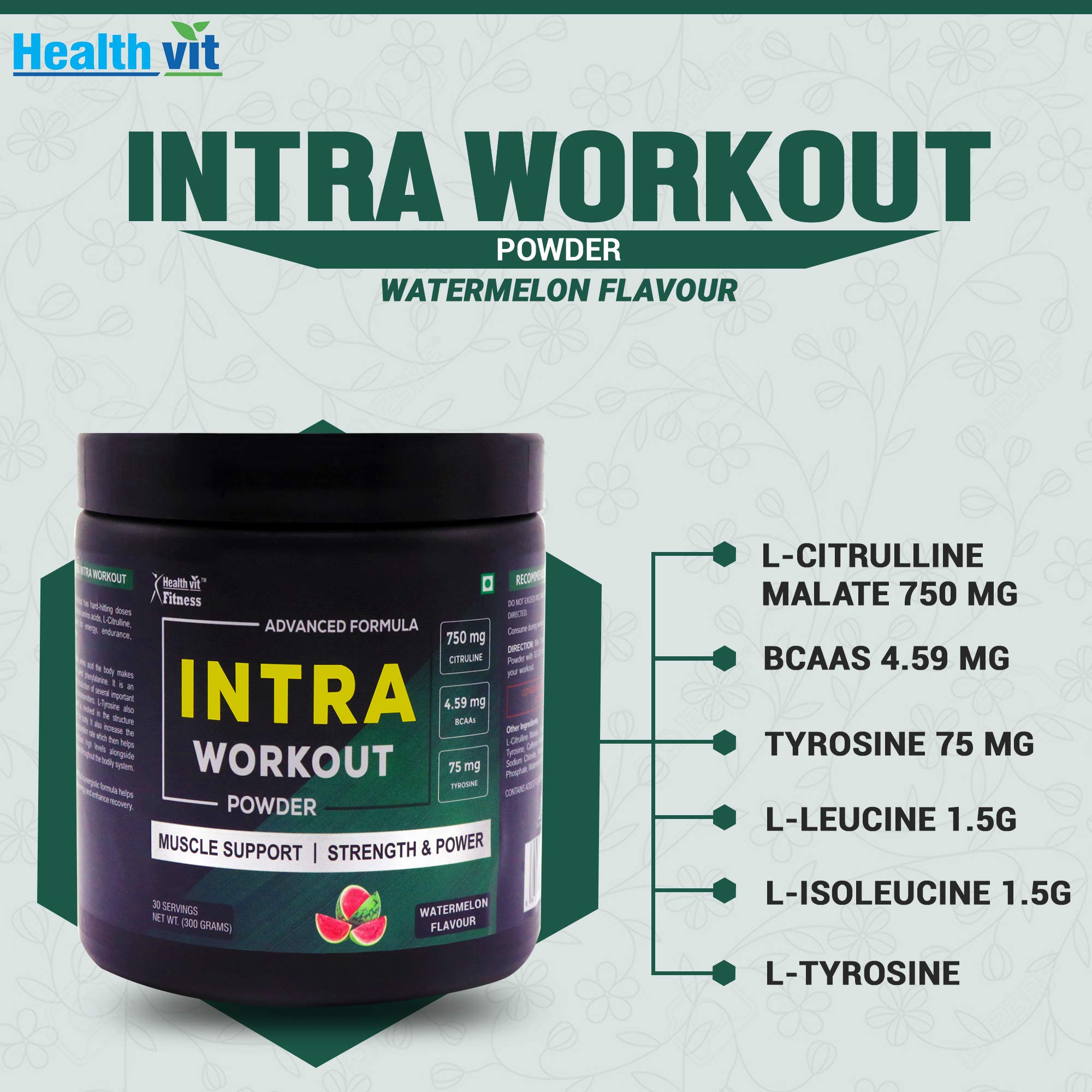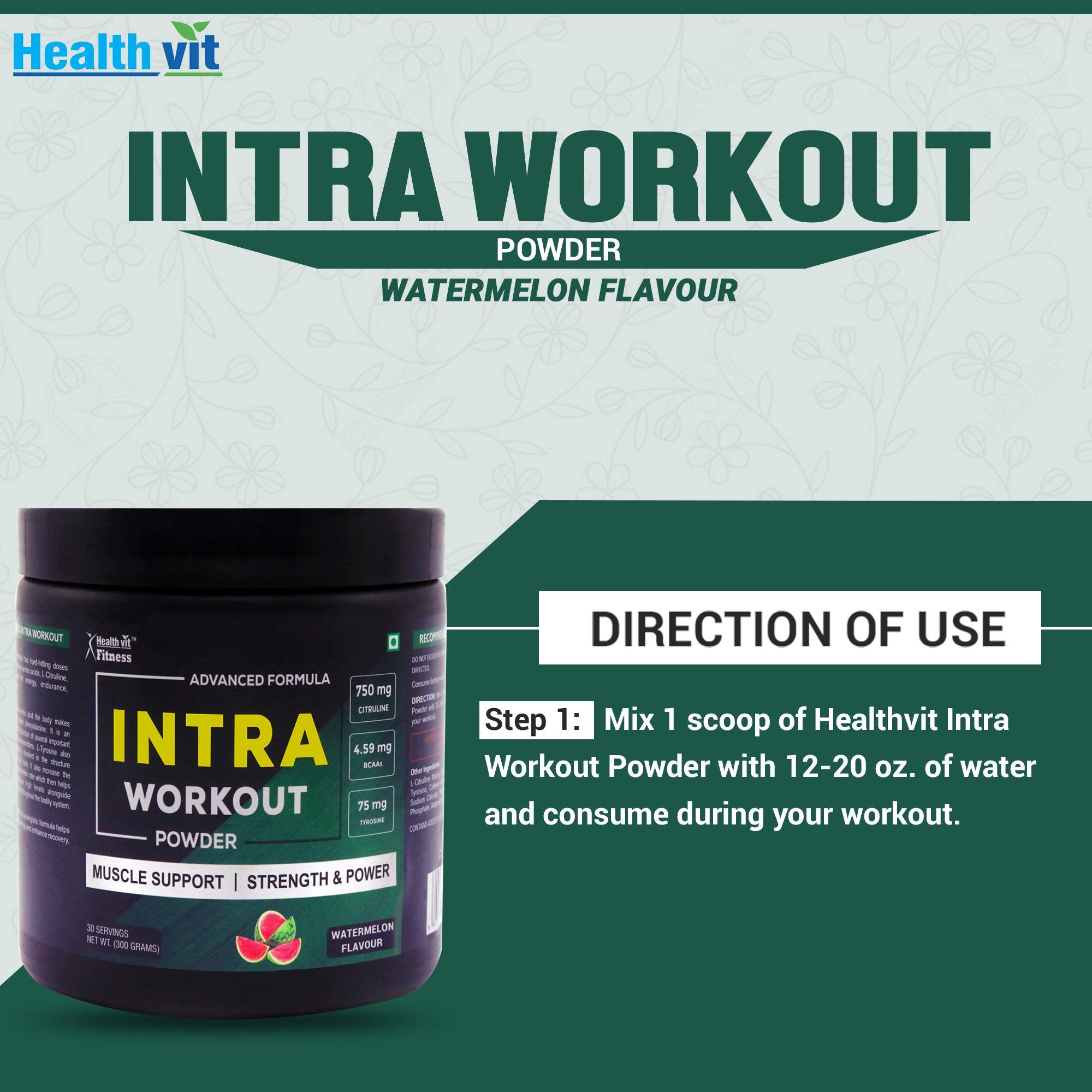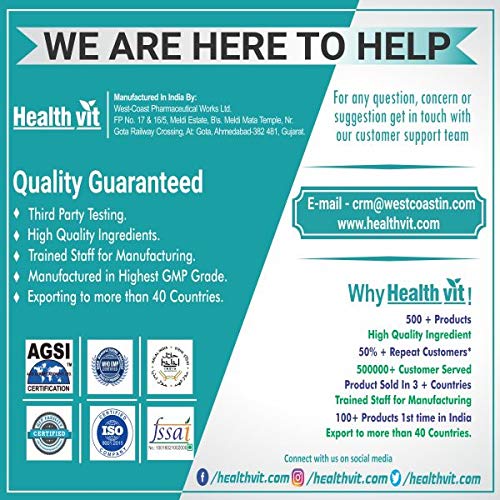 Healthvit Fitness Intra Workout Powder Advanced Formula | L-Citrulline Malate 750 mg, BCAAs 4.59 mg, Tyrosine 75 mg, L-Leucine 1.5g , L-Isoleucine 1.5g, L-Tyrosine | Improves Muscle Function | Superior Endurance | Replenish Essential Nutrients | 300gm
Regular price

₹ 900/-

Sale price

₹ 699/-

Unit price

per
CLICK HERE FOR COD
About the product :
Healthvit Fitness INTRA-WORKOUT contains L-Citrulline DL-Malate, L-Leucine, L-Isoleucine, L-Valine, L-Tyrosine, and Caffeine. It helps the body's ability to produce High Levels alongside the nitric oxide levels throughout the bodily system.
IMPROVES MUSCLE FUNCTION: Our Ingredient has been scientifically formulated to boost muscle carnosine levels, enabling you to blast through rep after rep without fatigue.
SUPERIOR ENDURANCE: Out train and out gain the competition, Healthvit INTRA-WORKOUT helps boost your energy and endurance levels so you can get the most out of every workout.
ULTIMATE INTRA WORKOUT: Our Product is, without question, the most advanced INTRA-WORKOUT Powder. It helps to accelerate your recovery and fuel your performance.
An intra-workout supplement is a supplement you take to help support endurance, replenish essential nutrients and increase your muscle mass during your workout.
Healthvit Fitness Intra Workout Powder Advanced Formula | L-Citrulline Malate 750 mg, BCAAs 4.59 mg, Tyrosine 75 mg, L-Leucine 1.5g , L-Isoleucine 1.5g, L-Tyrosine | Improves Muscle Function | Superior Endurance | Replenish Essential Nutrients | 300gm
Product Description :
Healthvit fitness intra workout powder advanced formula 300 gm – watermelon flavour. Healthvit fitness intra workout. Healthvit fitness intra workout has hard-hitting doses of proven 2: 1: 1 branched chain amino acids, l-citrulline, caffeine and l-tyrosine for energy, endurance, strength and performance. L-tyrosine is a nonessential amino acid the body makes from another amino acid called phenylalanine. It is an essential component for the production of several important brain chemicals called neurotransmitters. L-tyrosine also helps produce melanin and is involved in the structure of almost every protein in the body. It also increases the l-arginine and l-citrulline absorption rate which then helps the body's ability to produce high levels alongside increasing nitric oxide levels throughout the bodily system. Healthvit fitness intra workout synergistic formula helps you build muscle, increase energy and enhance recovery. 1. Muscle support. 2. Strength and power. Ingredients: l-citrulline malate 750 mg, bcaas 4. 59 mg, tyrosine 75 mg, l-leucine 1. 5g, l-isoleucine 1. 5g, l-tyrosine, caffeine anhydrous. Suggested use: mix 1 scoop of healthvit intra workout powder with 12-20 oz. Of water and consume during your workout.
---
Detailed Specifications:
| | |
| --- | --- |
| Package Dimensions : | 9.91 x 9.91 x 13.21 cm; 390 Grams |
| Size : | 300 g (Pack of 1) |
| Manufacturer / Importer : | West Coast Pharmaceuticals Works Limited; |
| Marketed by : | Merhaki Foods & Nutrition Pvt. Ltd. |
| Flavour : | Watermelon |
| Weight : | 300Grams |
| Brand : | HealthVit |
| Model Number : | 41-U3QT-LKG1 |
| Item Part Number : | 41-U3QT-LKG1 |
| Item Length : | 12 cm |
| Item Height : | 12 cm |
| Ingredients : | L-Citrulline Malate 750 mg, BCAAs 4.59 mg, Tyrosine 75 mg, L-Leucine 1.5g , L-Isoleucine 1.5g, L-Tyrosine, Caffeine Anhydrous. |
| Dosage Form : | Powder |
| Batteries Required : | false |
| Appropriate Age Range : | Adult |