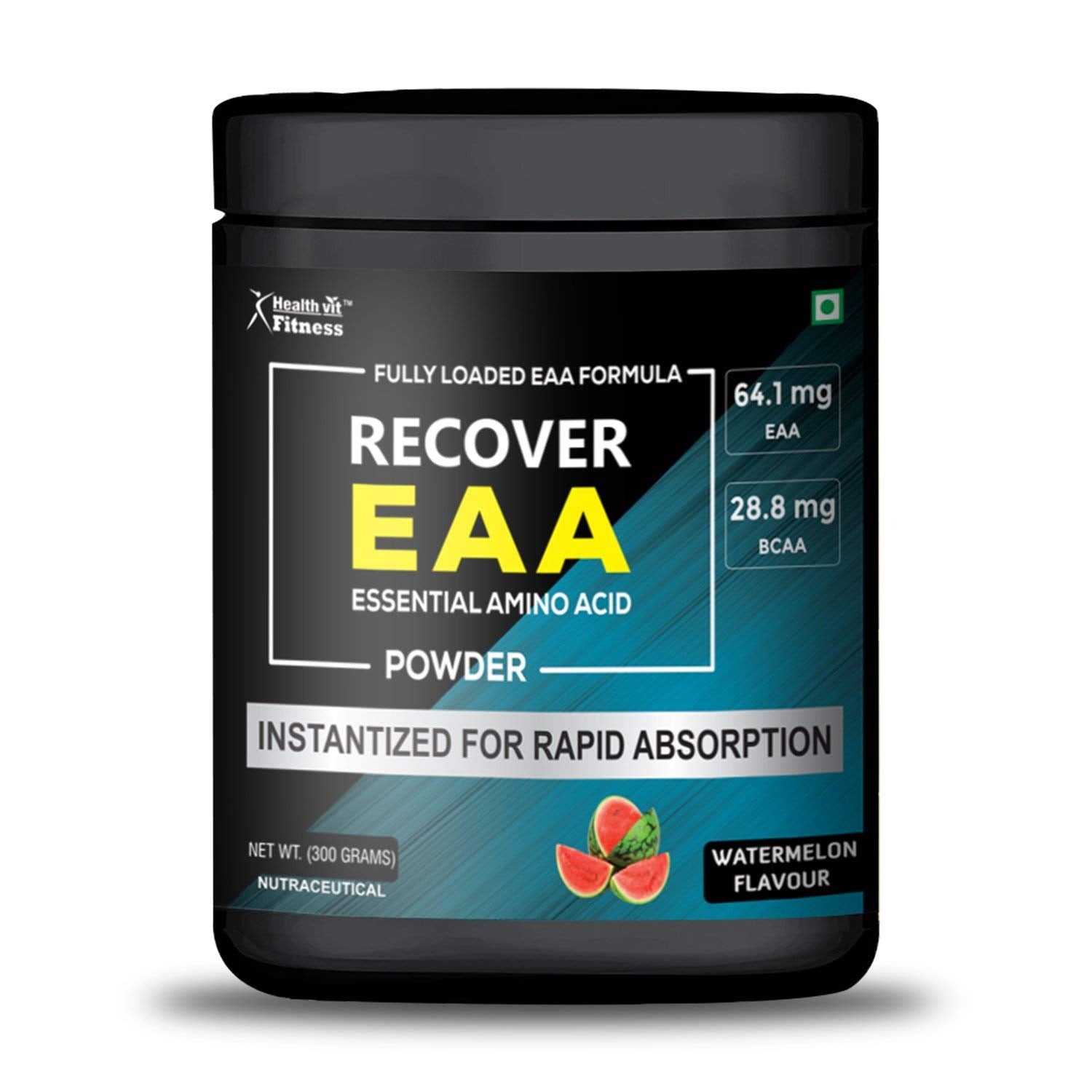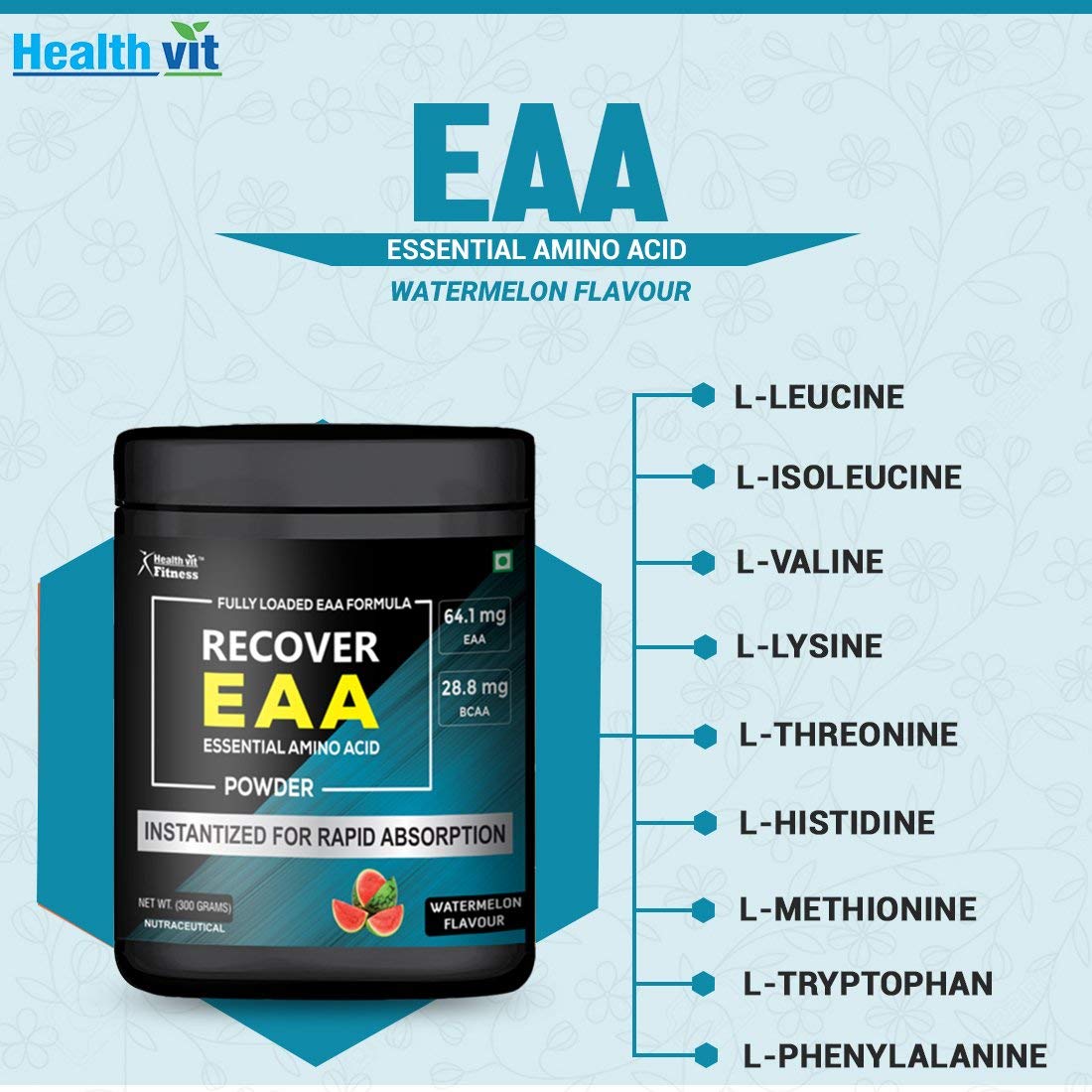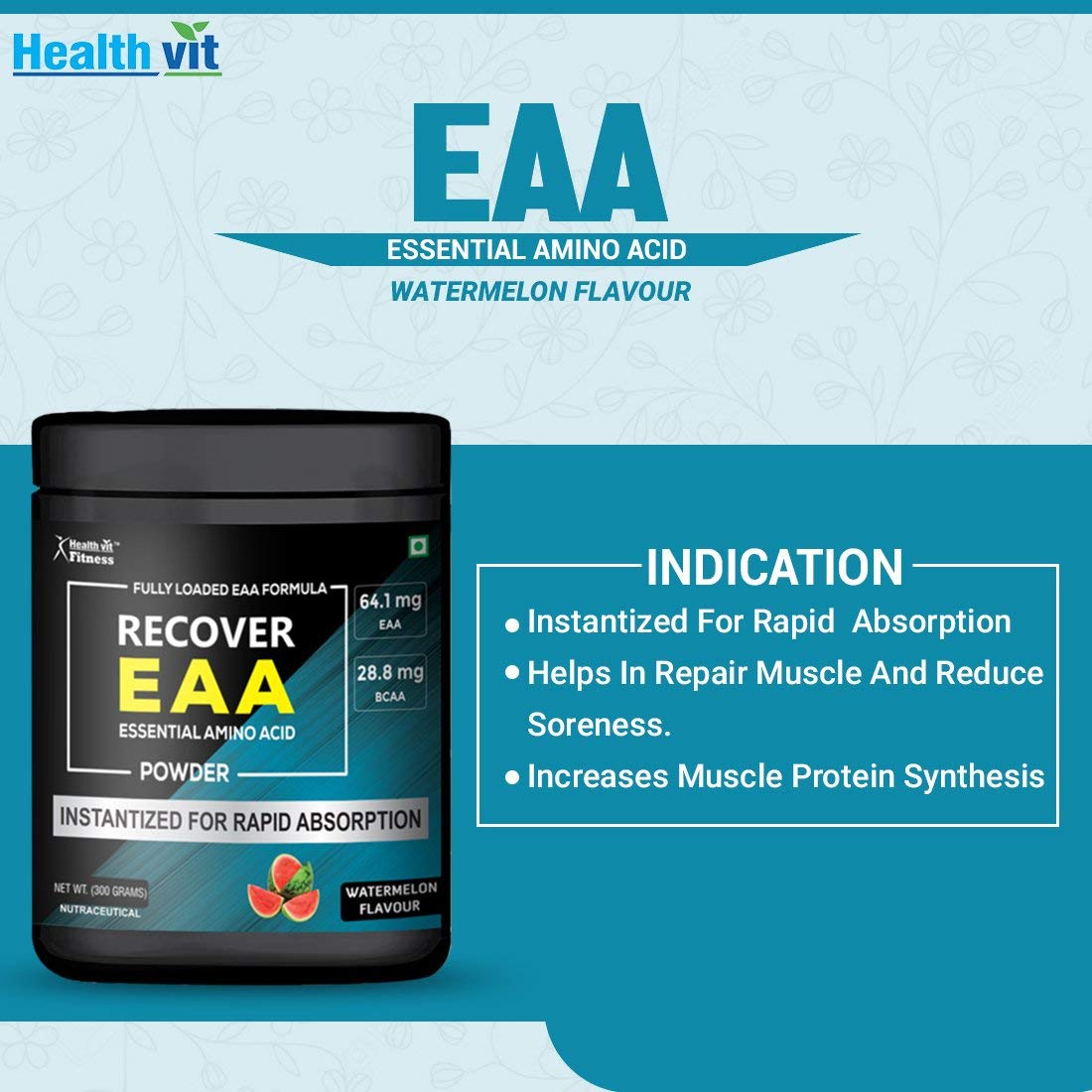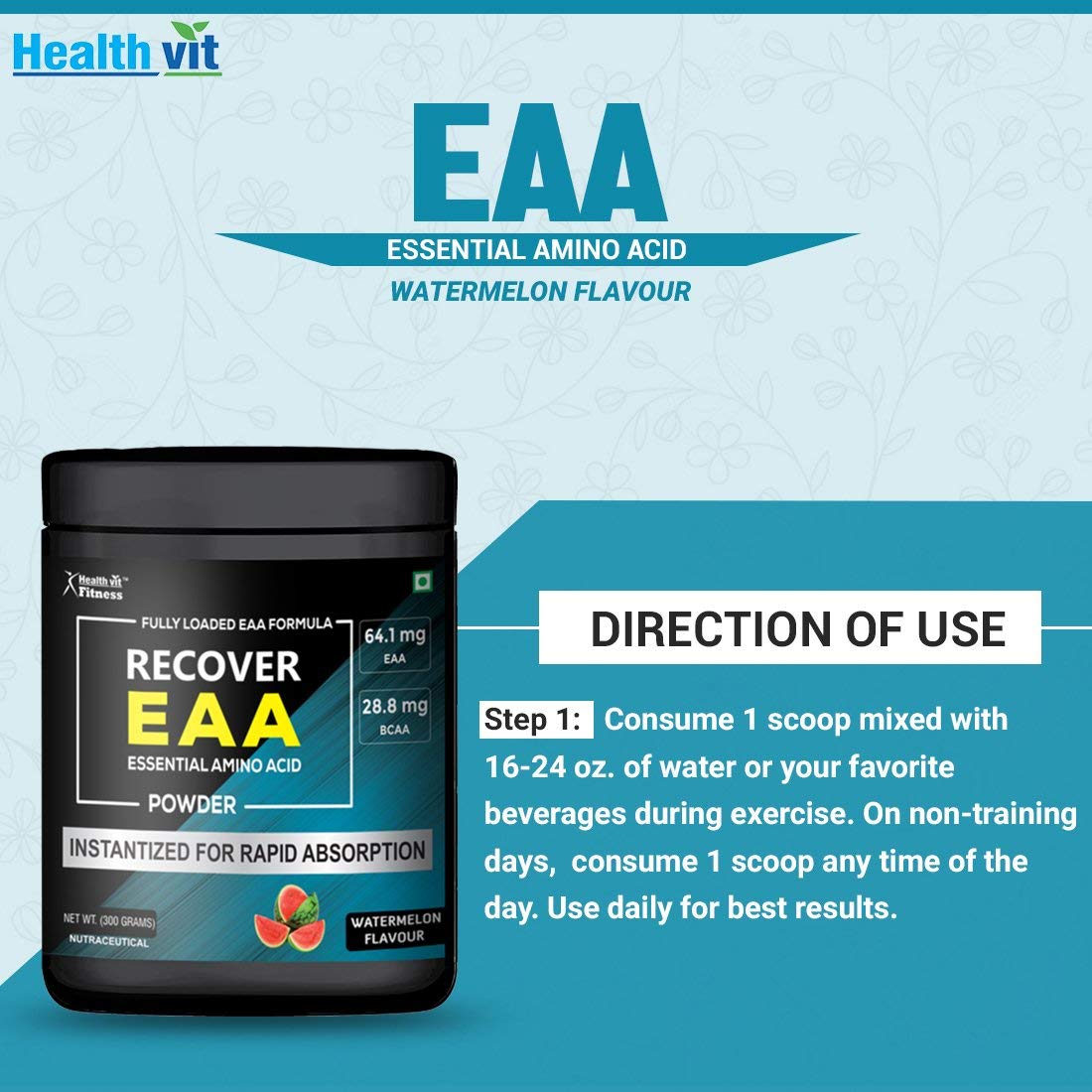 Healthvit Fitness EAA Essential Amino Acid Powder |Instantized For Rapid Absorption|Enhances Muscle Protein Synthesis|For Focus, Recovery, And Hydration|Improves Metabolism, 300gm (Watermelon Flavor)
Regular price

₹ 1,000/-

Sale price

₹ 699/-

Unit price

per
CLICK HERE FOR COD
About the product :
This special formula helps maximize lean muscle protein synthesis and promote recovery while increasing muscle growth and reducing exercise fatigue.
Healthvit EAA features an of Essential Amino Acids, with fermented BCAAs to help supercharge your recovery. Full spectrum EAAs are a great way to improve lean muscle growth and recovery both intra and post workout.
Helps activate protein synthesis while reducing catabolic muscle breakdown. Supports Strength & Lean mass growth.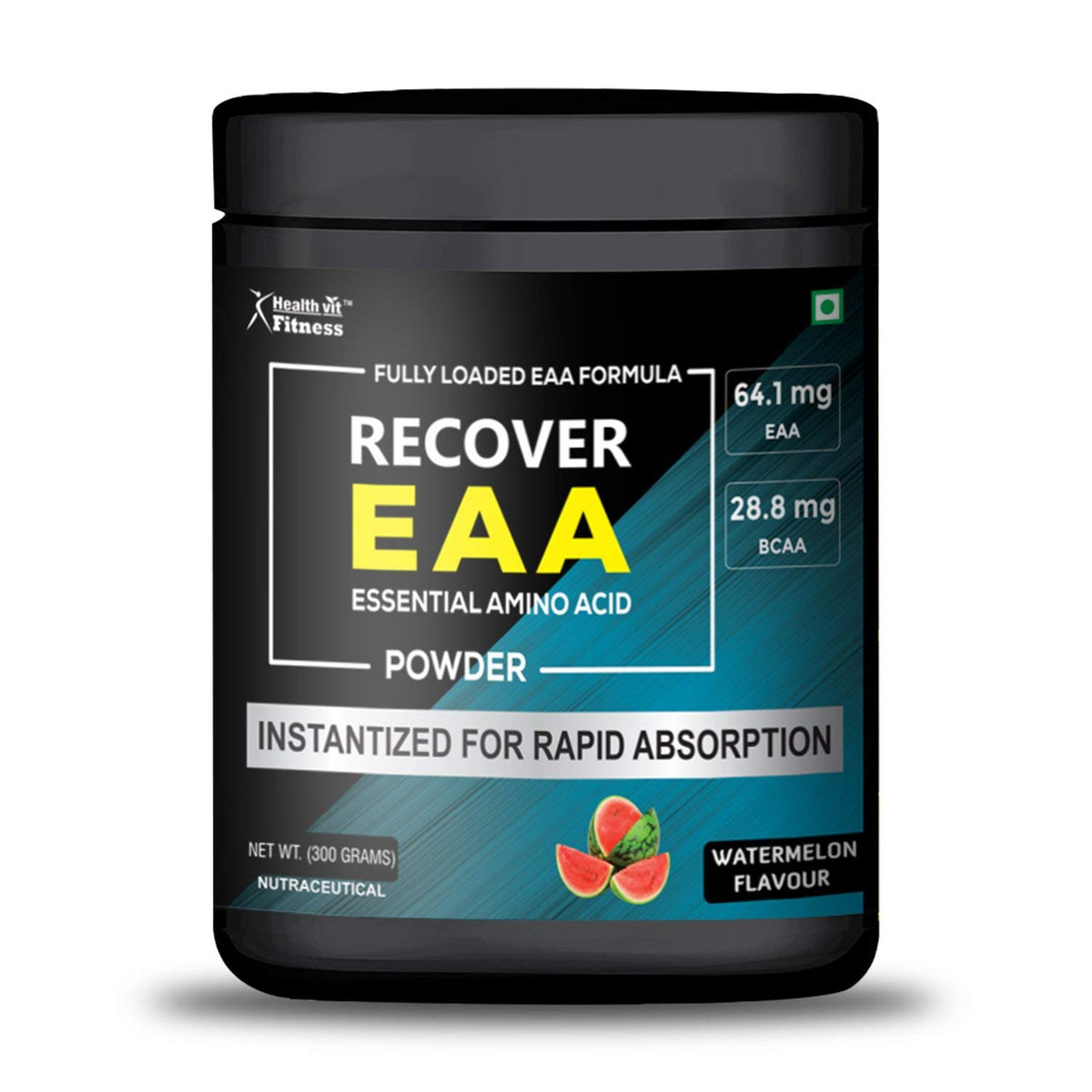 Healthvit Fitness EAA Essential Amino Acid Powder |Instantized For Rapid Absorption|Enhances Muscle Protein Synthesis|For Focus, Recovery, And Hydration|Improves Metabolism, 300gm (Watermelon Flavor)
Product Description :
Healthvit fitness eaa essential amino acid powder fully loaded eaa formula – 300gm watermelon flavour Combination of Essential Amino Acids which are not produced by our body. Help to build & repair muscle tissue.
---
Detailed Specifications:
| | |
| --- | --- |
| Package Dimensions : | 9.8 X 10 X 11.7 Cm; 370 Grams |
| Size : | 300 g (Pack of 1) |
| Manufacturer / Importer : | West Coast Pharmaceuticals Works Limited; |
| Marketed by : | Merhaki Foods & Nutrition Pvt. Ltd. |
| Flavour : | Watermelon Flavour |
| Weight : | 370Grams |
| Brand : | HealthVit |
| Model Number : | RD-DF36-9ZUQ |
| Item Part Number : | RD-DF36-9ZUQ |
| Item Length : | 117 cm |
| Item Height : | 12 cm |
| Ingredients : | L-Leucine, L-Isoleucine, L-Valine, L-Lysine, L-Threonine, L-Histidine, L-Methionine, L-Tryptophan, L-Phenylalanine |
| Dosage Form : | Powder |
| Batteries Required : | false |
| Appropriate Age Range : | Adult |